Carlsen Wins Grand Chess Tour Leuven
After winning the rapid rounds with an impressive 4/4 performance on Day 2 of the tournament, World Champion Magnus Carlsen even cemented his dominance with an 11/18 performance in the blitz rounds.
Thus, making him the runaway winner of the combined rapid and blitz games that comprise the whole of the Grand Chess Tour 2016 — Your Next Move — Leuven, Belgium. Final combined results follow:
Wesley So makes it to the 2nd place at the conclusion of this Leuven leg. He is followed, this time closely behind, by Levon Aronian and Viswanathan Anand, by half a point each.
Remembering the Grand Chess Tour Paris
Remember that Hikaru Nakamura was the king of the Grand Chess Tour Paris 2016, and thus, he earned 13 GCT points in that tour. But he finished 7th place in Leuven, making him earn 4 GCT points only this time, or a total of 17 points so far.
Wesley So earned 7 GCT points for placing 4th in Paris, but he earned 10 GCT points in Leuven (second place), for a total of 17 points as well.
Magnus Carlsen, on the other hand, was 2nd place in Paris (10 GCT points) and 1st in Leuven (13 GCT points), earning him a total of 23 GCT points so far — a clear first in the Grand Chess Tour 2016 race. However, he was just a wildcard for the Paris and Leuven stops of the whole tour — thus, making him ineligible for the entire tour's title and the corresponding grand prizes, unless he plays in the last wildcard slot of the London Chess Classic. (One needs to play at least 3 tournaments in order to qualify for the overall title. See Grand Chess Tour website for more info.)
Grand Chess Tour 2016 Standings — after Paris and Leuven
Thus, the overall standings — so far — after Paris and Leuven, are as follows: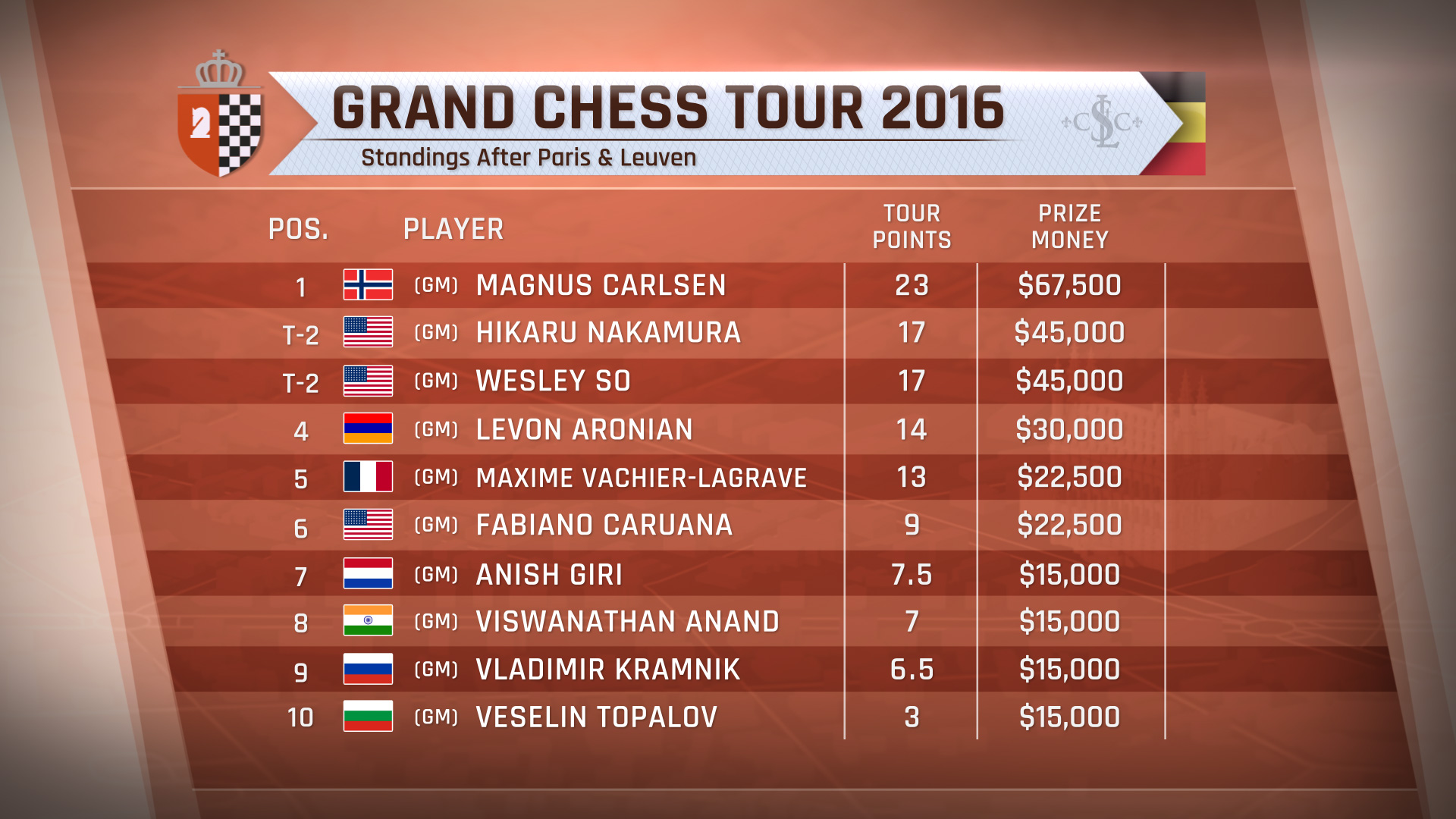 With Carlsen being just a wildcard player in both Paris and Leuven, that leaves Hikaru Nakamura and Wesley So leading the race so far and should be battling it out for the first place in the next two stops at Sinquefield Cup and the London Chess Classic.
Details of the next two stops follow:
Sinquefield Cup: August 1-16, 2016 • Saint Louis, USA • Classical
London Chess Classic: December 8-19, 2016 • London, England • Classical
Replay all the games:
Photo credits: