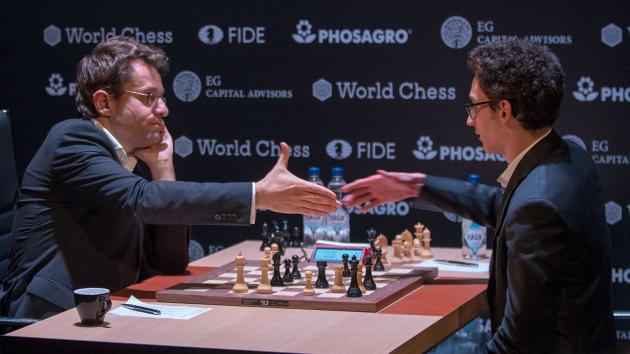 As we move closer to the finish line, Fabiano Caruana still leads the Candidates. Will he be the next challenger?
Round 8 Results:
Mamedyarov, Shakhriyar – Karjakin, Sergey ½-½
Grischuk, Alexander – Kramnik, Vladimir 1-0
Ding, Liren – Aronian, Levon ½-½
So, Wesley – Caruana, Fabiano ½-½
Here's how Round 8 happened:[replay]
Round 8 Standings: 1st Caruana 5.5pts, 2nd Mamedyarov 5pts, 3rd Grischuk 4.5pts, 4th Ding Liren 4pts, 5th Kramnik 3.5pts, 6th Karjakin 3.5pts, 7th Wesley So 3pts, 8th Aronian 3pts.
Candidates 2018 Final Ranking
| Rk | SNo | Name | FED | Rtg | Pts | TB1 | TB2 | TB3 |
| --- | --- | --- | --- | --- | --- | --- | --- | --- |
| 1 | 4 | Caruana Fabiano | USA | 2784 | 9 | 0 | 5 | 57 |
| 2 | 7 | Mamedyarov Shakhriyar | AZE | 2809 | 8 | 1.5 | 3 | 54.75 |
| 3 | 2 | Karjakin Sergey | RUS | 2763 | 8 | 0.5 | 4 | 54.75 |
| 4 | 6 | Ding Liren | CHN | 2769 | 7.5 | 0 | 1 | 52.5 |
| 5 | 1 | Kramnik Vladimir | RUS | 2800 | 6.5 | 1 | 3 | 41.5 |
| 6 | 8 | Grischuk Alexander | RUS | 2767 | 6.5 | 1 | 2 | 44 |
| 7 | 5 | So Wesley | USA | 2799 | 6 | 0 | 1 | 40.5 |
| 8 | 3 | Aronian Levon | ARM | 2794 | 4.5 | 0 | 1 | 33 |