The third leg of Grand Chess Tour 2016, the Singquefield Cup in Saint Louis, Missouri, in the United States, was scheduled to have Vladimir Kramnik among its list of strong participants. But apparently, he withdrew for health reasons. Chess.com:
Kramnik, who was going to make his debut in St. Louis, told Chess.com: "I have had back problems for quite some time already. Since it is getting worse, I just want to use this month to cure it."
Signs of aging, eh? Nevertheless, Sinquefield Cup will make do without the World No. 3 (according to the live ratings) and carry on with Peter Svidler in his stead.
Thus, the lineup for the Sinquefield Cup 2016 follows:
Sinquefield Cup 2016 Participants
Sd.
Name
Country
July
Rtg
1
Fabiano Caruana
United States
2810
2
Maxime Vachier-Lagrave
France
2798
3
Levon Aronian
Armenia
2792
4
Hikaru Nakamura
United States
2787
5
Anish Giri
Netherlands
2785
6
Ding Liren
China
2778
7
Wesley So
United States
2770
8
Viswanathan Anand
India
2770
9
Veselin Topalov
Bulgaria
2761
10
Peter Svidler
Russia
2759
Kramnik is still playing in the London Chess Classic leg, thus he can still be in contention for the Grand Chess Tour title.
Remember, the ranking so far (and their respective points) in the 2016 Grand Chess Tour follows: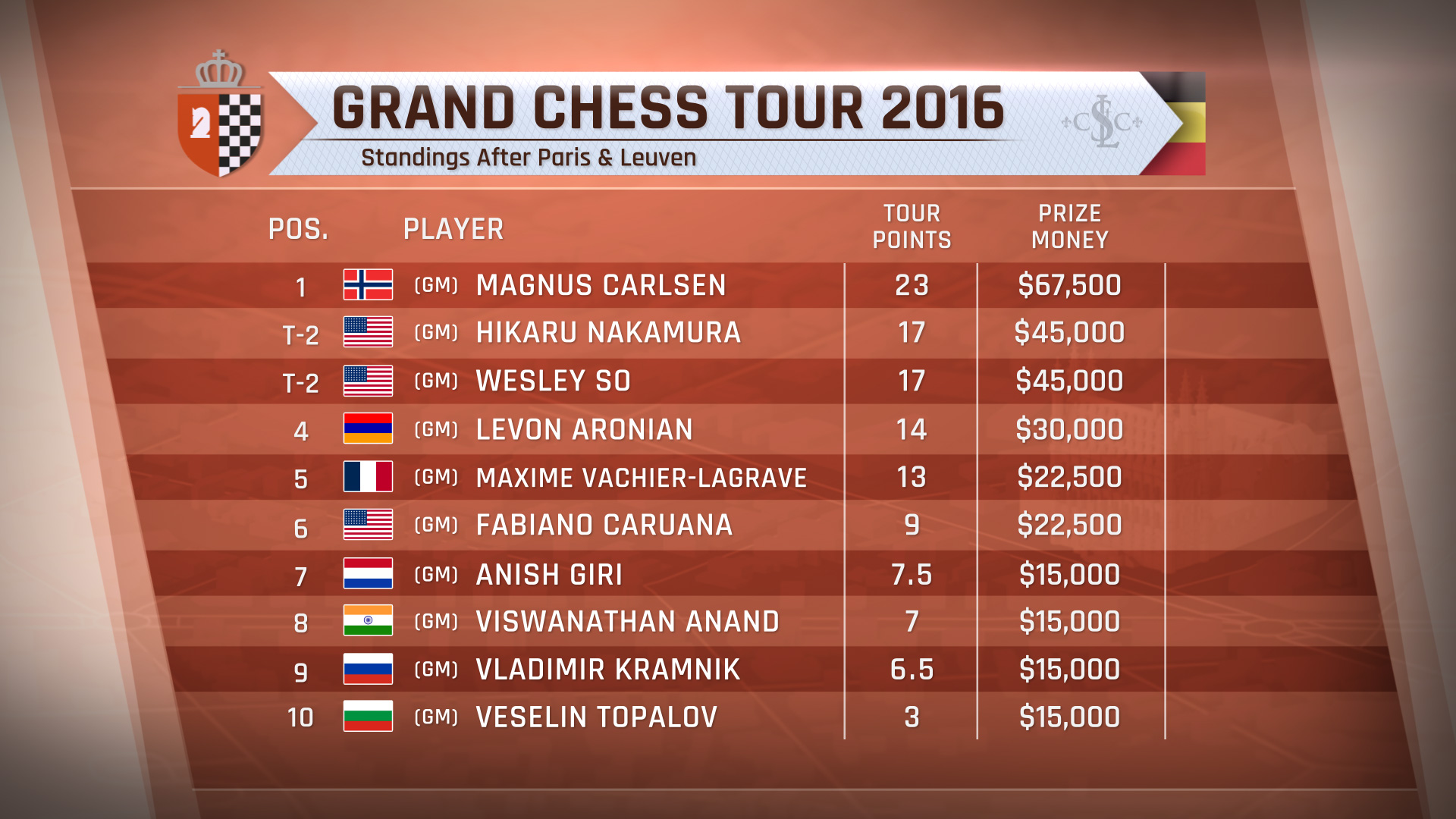 Photos by: Grand Chess Tour.